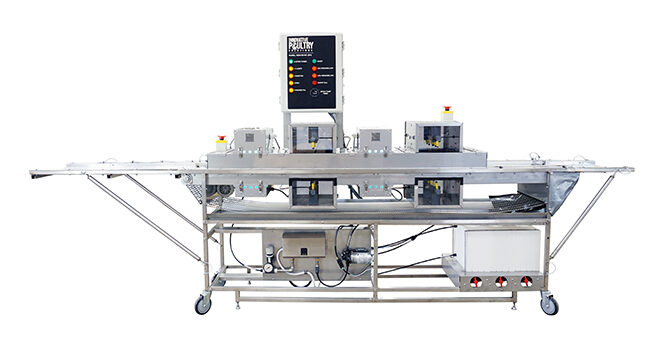 The most effective egg sanitization process ever developed. Can be used on hatching eggs, table eggs and SPF eggs.
To achieve the full benefits of the sanitizer, the eggs must be reasonably clean for maximum microbial reduction. The HP-UV Egg Sanitizer™ is NOT an egg washer. It is not designed to remove large amounts of organic matter adhering to the eggs.

The HP-UV Egg Sanitizer™ is custom built to fit into any operation for easy implementation. Customized modules are used to build a system to accommodate specific spaces, egg quantities, and egg handling processes.

To complete the ordering of your custom equipment, choose from the following modules: Egg Sanitizing Module, In-feed Module, Out-feed Module, and Dryer Module.
The HP-UV Egg Sanitizer™ eliminates ALL types of microorganisms.
Are you ready to make a change in your operation?
1
Consultation
Contact Craig Coufal for a free consultation. We will discuss how this process can improve your operation.
2
Customization
Craig will work with you to make customizations to your HP-UV Egg Sanitizer™ in order to best fit your needs.
3
Quotation
We will provide a cost estimate based on your HP-UV Egg Sanitizer™ specifications.
4
Production
Each HP-UV Egg Sanitizer™ is custom built in the United States with quality craftsmanship. An estimated production time will be provided.
5
Installation
Your HP-UV Egg Sanitizer™ will be installed by our experienced team with on-site training.